Overcoming Your Flourishing Fears Online Workshop (4 Lessons) (Starts August 1st, 2019)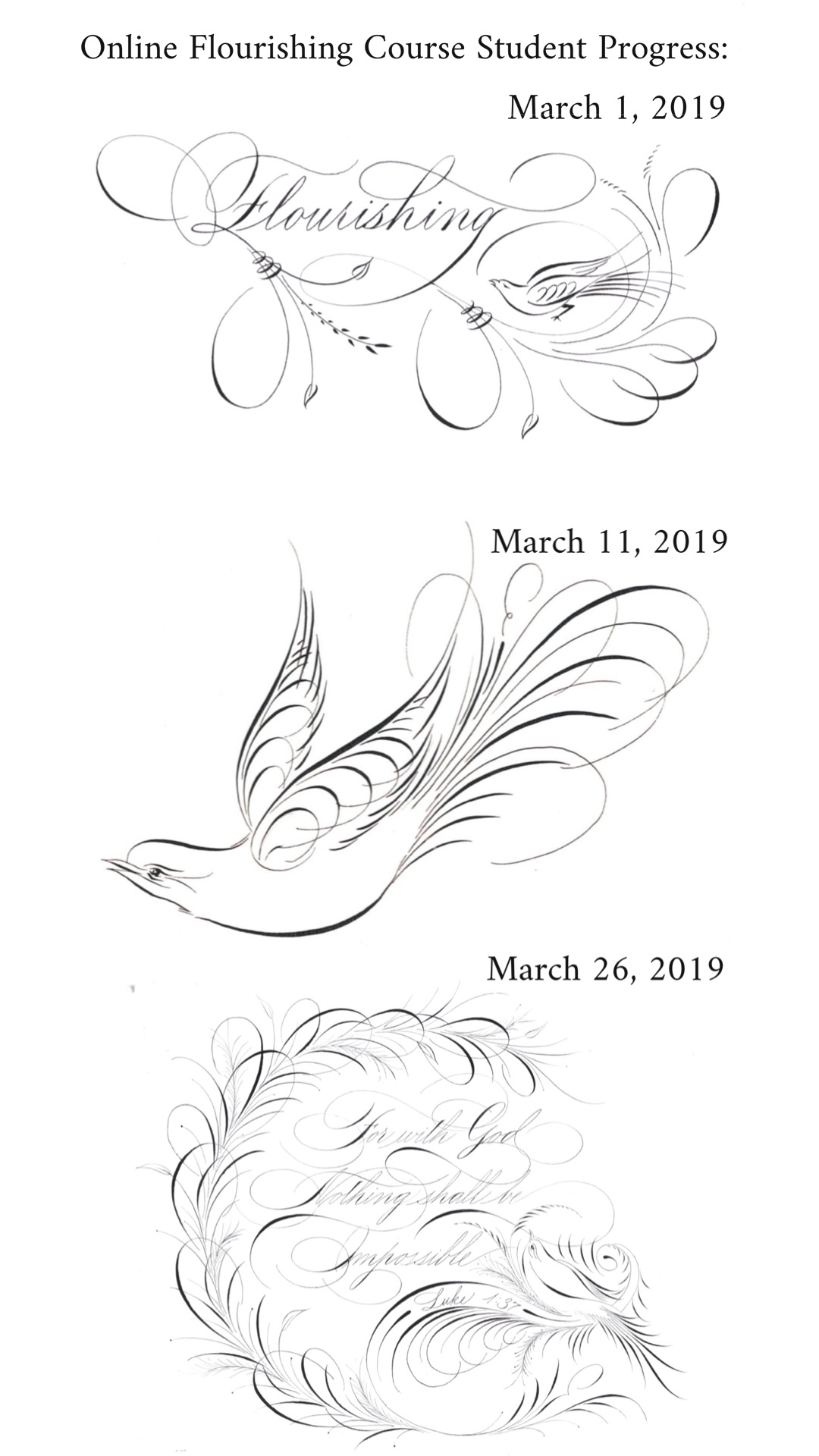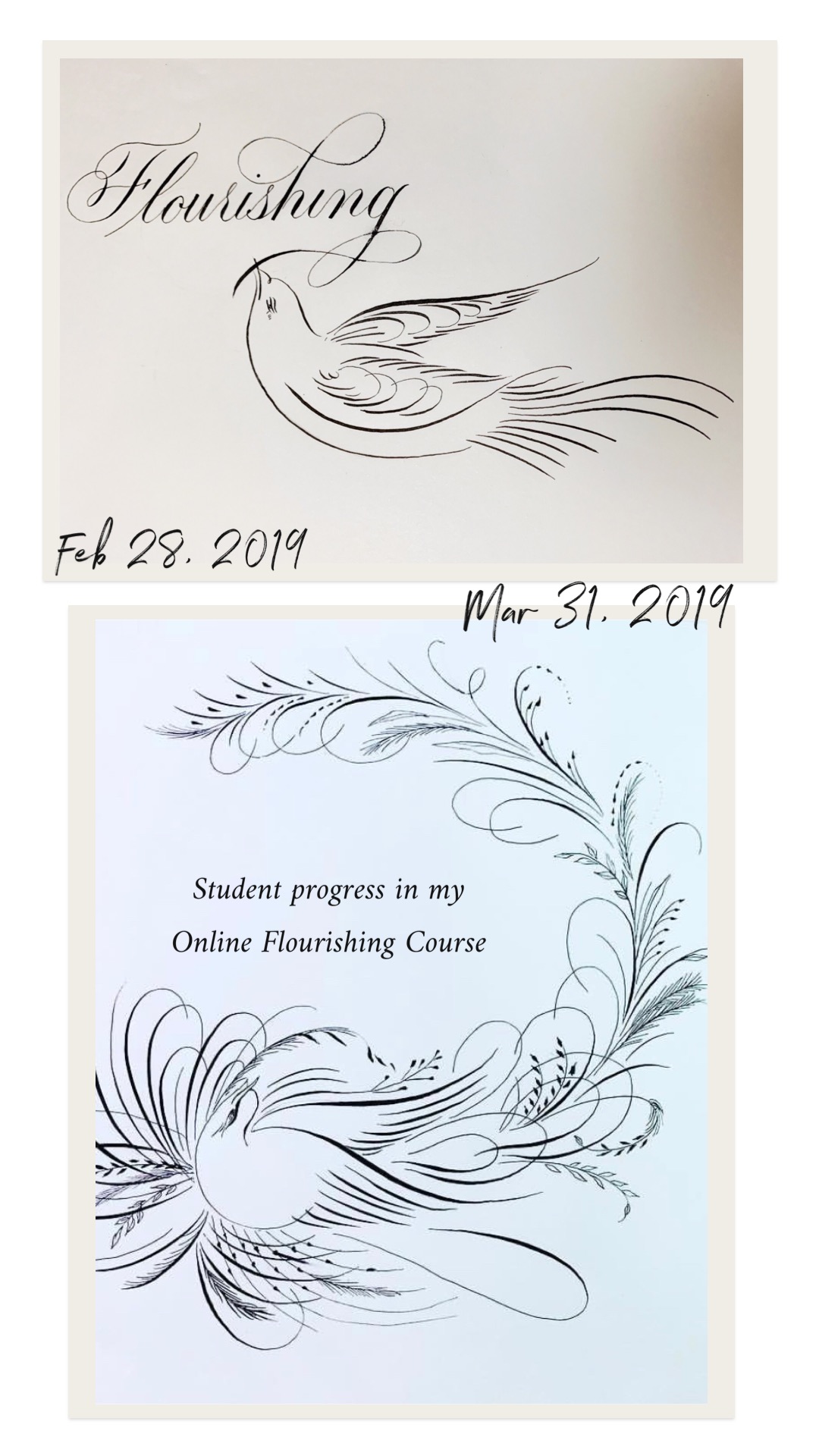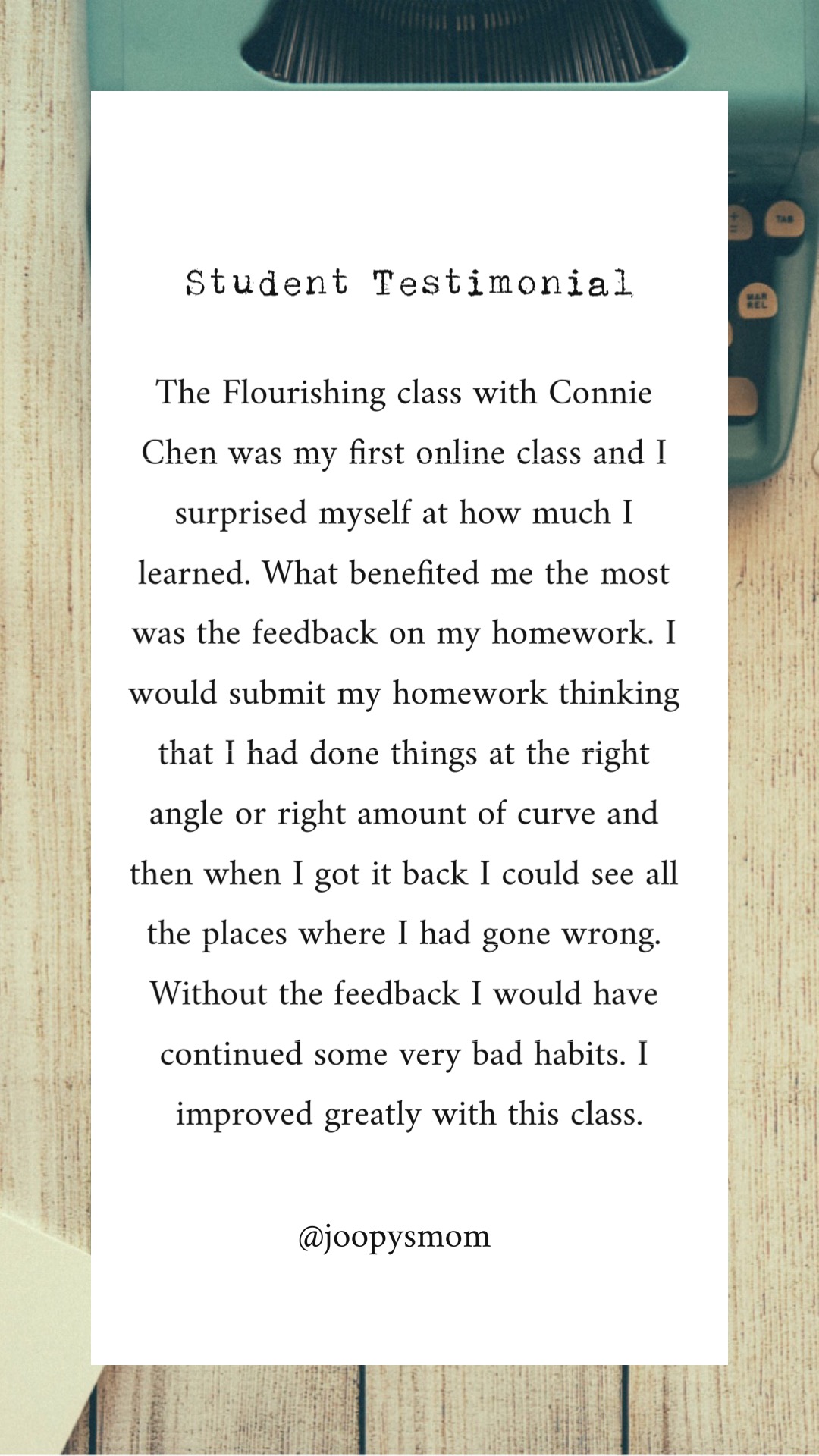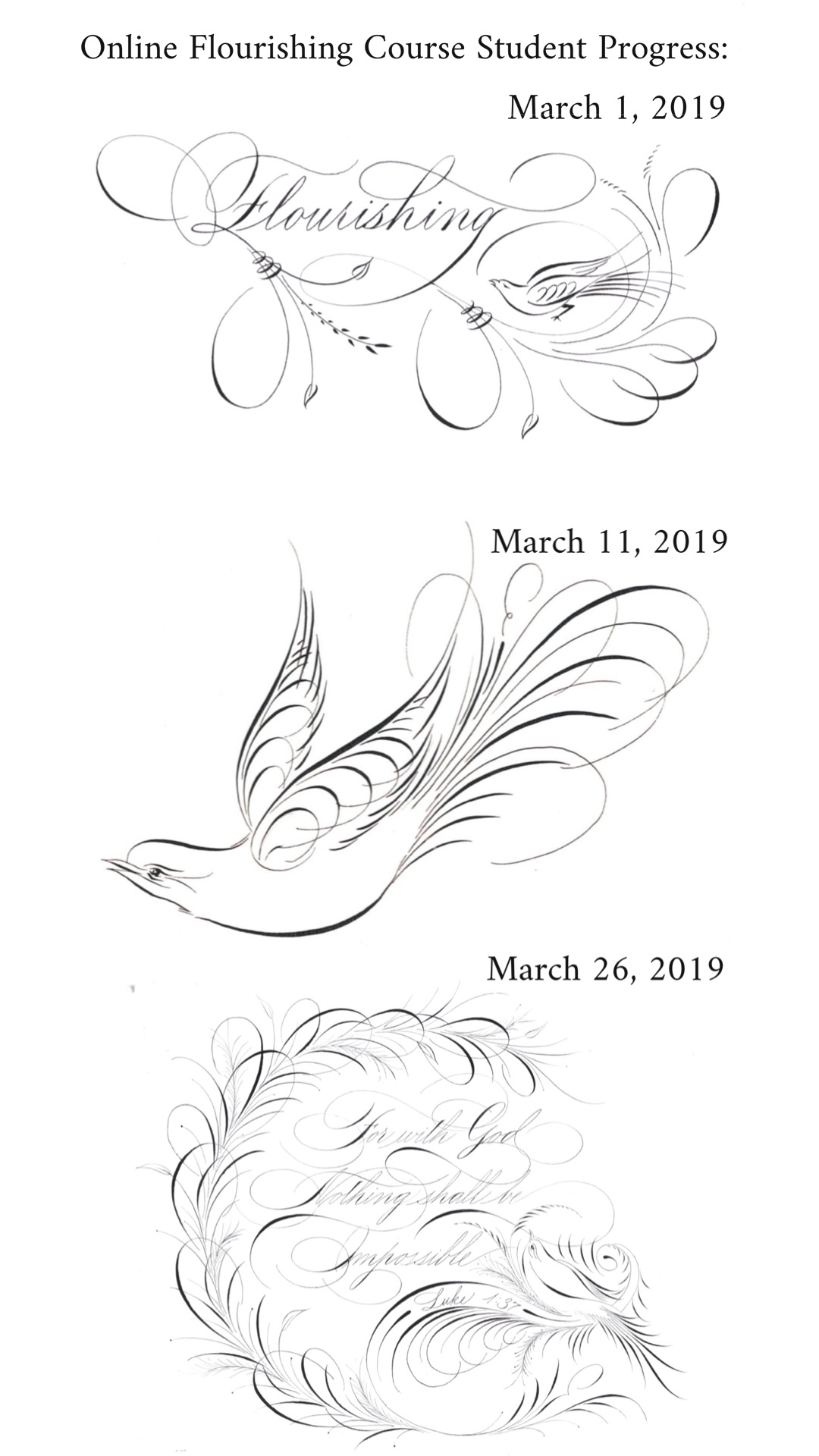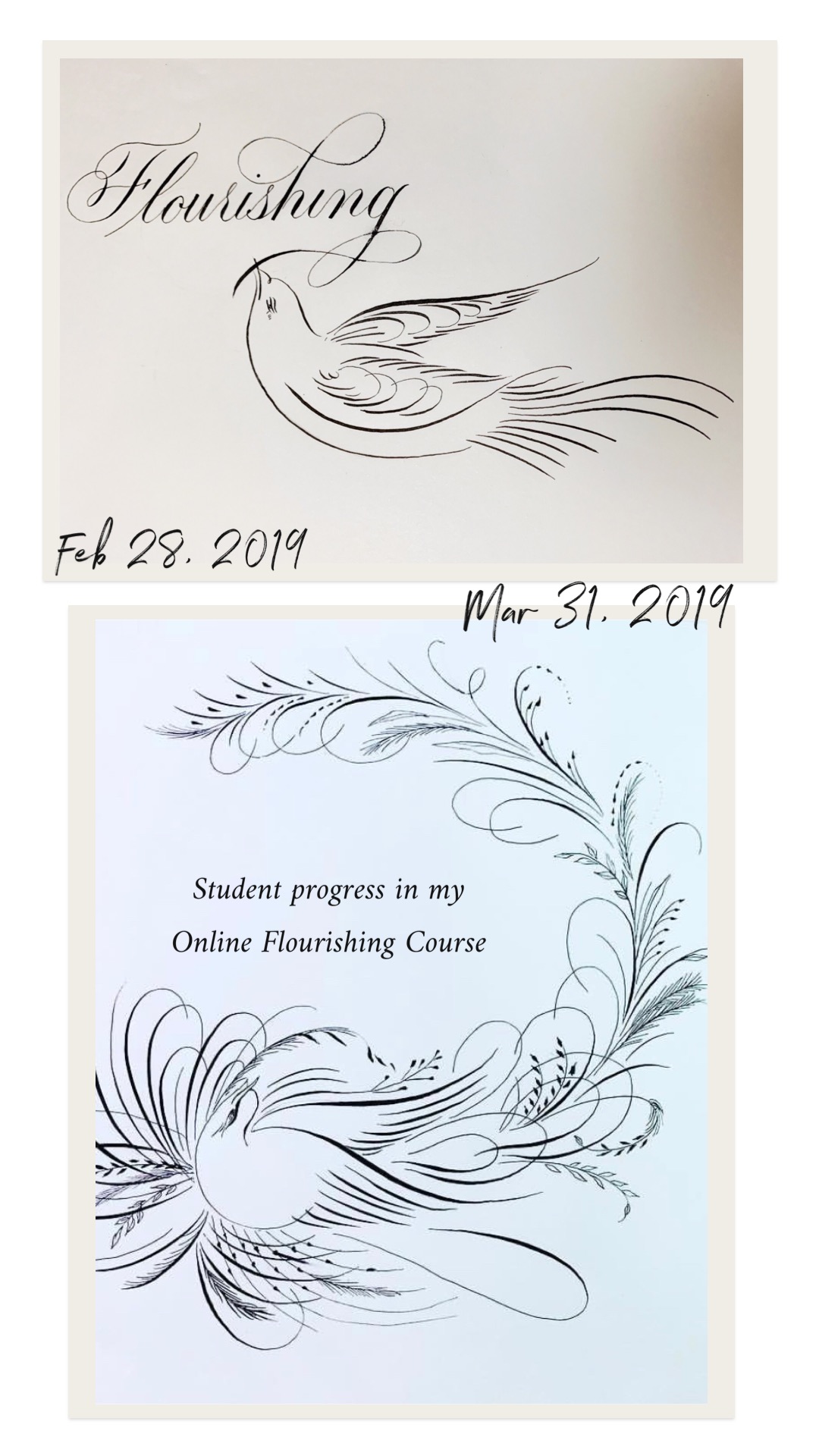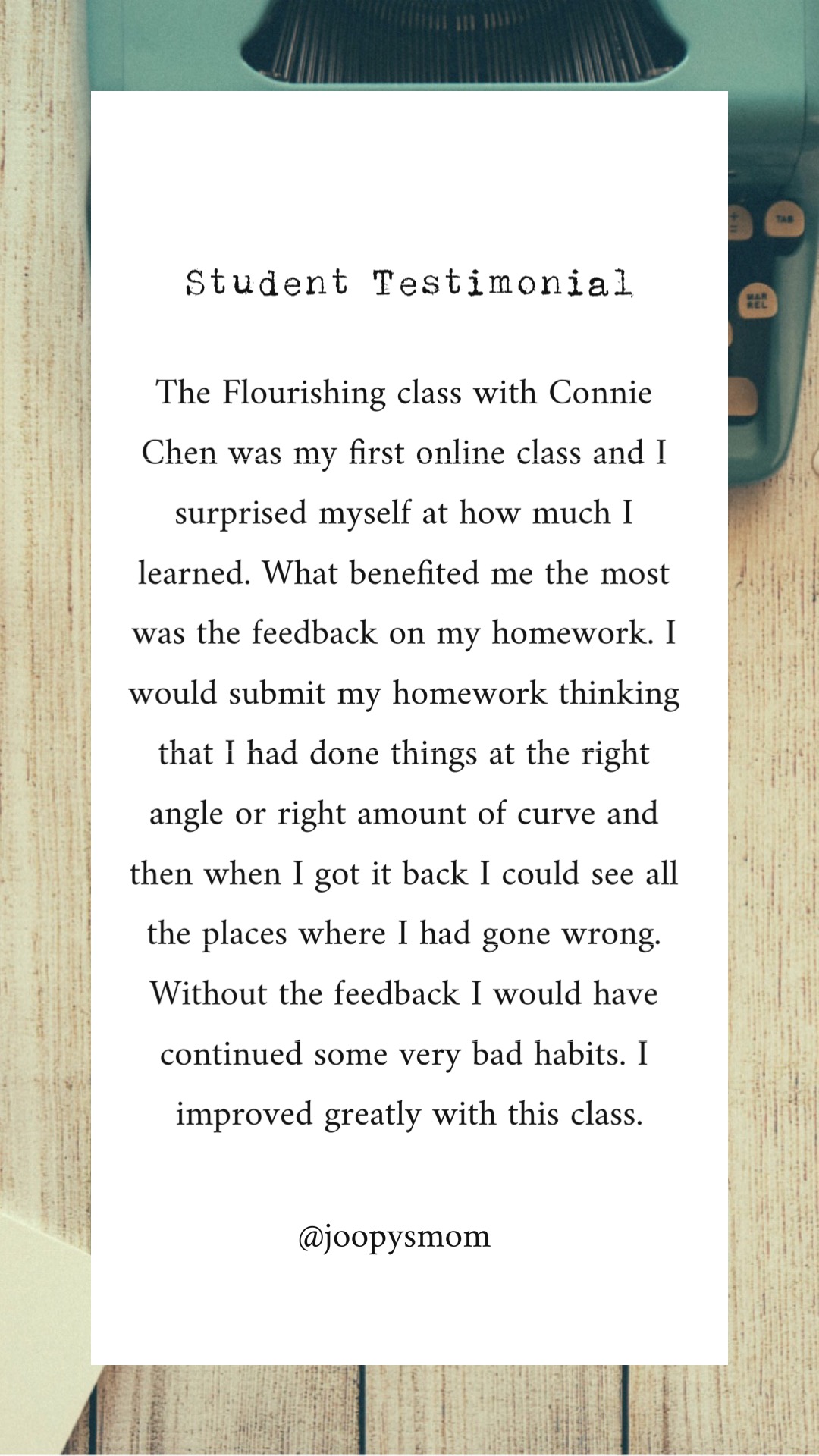 sale
Overcoming Your Flourishing Fears Online Workshop (4 Lessons) (Starts August 1st, 2019)
Scroll down to read what students have said about this course.
Learn what makes or breaks a flourish and let graceful strokes complement your work. We will break down and observe the flourish pieces of masters and understand how to compose flourishes in a way that serves your calligraphy. We will go over fore-arm and whole-arm movements; start from simple ending strokes of letters and end with quills and bird flourishes. These lessons are just a starting point on your journey to flourishing but my goal is to provide the basics so you can practice, practice, and practice some more. Please do not take this class if you wish only to approach pictorial flourishing with an oblique holder with finger movements. A straight holder will be used with whole arm movement for bird and quill flourishing only as they were traditionally done.
Lesson 1: What makes or breaks your flourish, whole-arm movement, quill flourishing
Lesson 2: Dissecting the bird flourish
Lesson 3: Common mistakes in text flourishing and step-by-step walk through of how I flourish a word
Lesson 4: Combining text and pictorial flourishing
Each week for four weeks there will be a ~40min video posted and your assignment of the week would be to put that instruction into practice. You may choose to scan or take a photo of your homework and post it on the forum, where I will make detailed suggestions on areas that can be improved. Most online courses at similar and higher price points do not offer personalized feedback for homework submissions but I firmly believe its importance in my students' progress.
You will have 60 days access to the course so you may truly learn at your own pace.
After your purchase through this link, you may head over to conniechencalligraphy.com to register for your forum account. Please register with the same email that you used to check out for this course. You will be given a password to access the videos and forum boards for the class you registered for and have access to the videos and boards for 60 days.
Please note that this course requires prior knowledge and practice of pointed pen.
Email me at connie@connie-chen.com if you have any questions or concerns.
Please see the supplies list here.
"Taking Connie Chen's Spencerian Structures and Flourishing Fears online class was the best decision ever! I felt my calligraphy skills hit a plateau and Connie's perfectly tailored classes were exactly what I was needing to learn more and improve on my current skills. I'm beyond pleased and so impressed with the progress I made in the 2 months of taking her classes! Connie goes over and beyond offering a surplus of information in her videos and handouts, and her personal feedback for assignments are handled with such incredible detail and precision that will just absolutely amaze you! Did I mention that not only is Connie an incredible teacher but is an amazing calligrapher too! Her work alone inspires and motivates you to challenge yourself to a whole new level! I highly recommend taking one of Connie Chen's amazing classes because I promise they will not disappoint!"

—Esther Thiel @swellafternooncalligraphy

"The Flourishing class with Connie Chen was my first online class and I surprised myself at how much I learned. What benefited me the most was the feedback on my homework. I would submit my homework thinking that I had done things at the right angle or right amount of curve and then when I got it back I could see all the places where I had gone wrong. Without the feedback I would have continued some very bad habits. I improved greatly with this class."

—@joopysmom